Stage Props For Bunn Leisure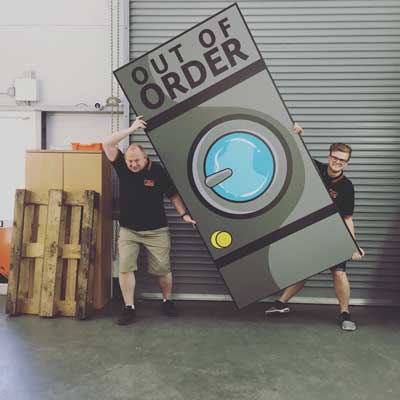 Wednesday, July 04, 2018
Two eight foot tall washing machines, three pots of gold and one "Wishy Washy" it must be pantomime season at Bunn Leisure.
When the email came in from Bunn Leisure's entertainment team asking for some help with their pantomime props, we were more than happy to help. We met on site with stage manager Holly to discuss the prop work for this years production, "Aladdin". Holly's "wishes" for two 8ft tall washing machines, several pots of gold and a life size "Wishy Washy" were quickly granted and production work began on the props.
The props were created from 8mm correx boards, with a matt finish vinyl print applied to reduce any glare from stage lighting. The washing machines had separate doors so they could be open and closed for the cast to climb in and out. The pots of gold and life-size 'Wishy Washy' were created using the same materials and cut to shape by hand.
As well as the large correx props we produced some heat transfer printing onto aprons for the "Twankey's Laundry" scene as well as a 10ft x 5ft flag for the "Agrabah Market" scene.